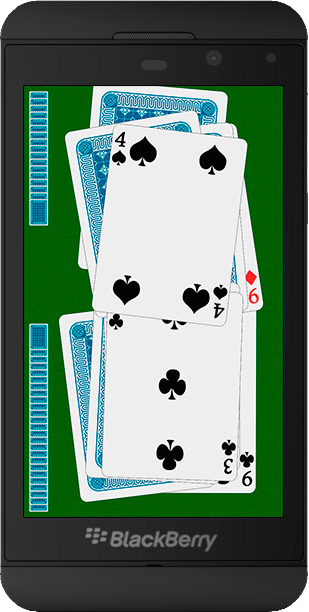 While working for BlackBerry, I decided to explore making games for mobile devices. My first BlackBerry tablet game was Jewel Thief but my second BlackBerry game was geared for mobile devices (Z10, Q10) and it was this Card War game.
I can't seem to find any of the source files for Card War, nor can I find any videos of me demonstrating the game either. All that I found in my archives is this one screenshot.
Card War was a single player card game that replicated the card game War (card game) - Wikipedia
The objective of the game is to win all of the cards.
A deck of 52 cards is divided evenly among the player and the computer opponent and shown on the left side of the screen. The player would then have to swipe up on their device to throw down their top most card off their deck and into the "battle". The computer opponent would then do the same. The player with the higher card takes both of the cards played.
If the two cards played are of equal value, then there is a "war". Both players place the next three cards face down and then another card face-up. The owner of the higher face-up card wins the war and adds all the cards on the table to the bottom of their deck. If the face-up cards are again equal then the battle repeats with another set of face-down/up cards. This repeats until one player's face-up card is higher than their opponent's.